Sample Contract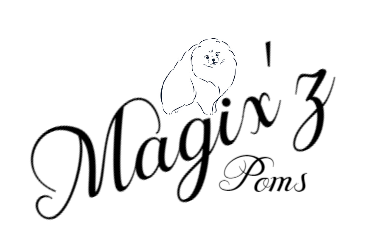 An agreement between Trish Berger (Magix'z Poms) and
the buyer________________________________ (hereinafter referred to as buyer)
On the ____________day of________, 20_____.
Dog's Name (herein referred to as dog)
___________________________________________
Registration # __________________
Date of Birth ____________________ Sex: Male Female
Sire _______________________________________________________
Dam_______________________________________________________
Microchip # _____________________________ Color _______________
Purchase Price $___________ paid in the form of cash at time of pick-up or Good dog pay. Payment in full must be made before the buyer takes possession of the dog. This document shall act as receipt.
Buyer's Address_______________________________________________
Buyer's City/State/Zip___________________________________________
Buyer's Telephone Number________________________________________
Buyer's E-Mail address____________________________________________
The above puppy is being placed as Full AKC Show/Breed Prospect
The above identified dog is a purebred Pomeranian and will be registered with the American Kennel Club with the buyer listed as the owner. The puppy's registered name must contain Magix's as a prefix as part of the registered name. The buyer will receive the registration papers within 2 months of date of sale but Magix'z cannot be held liable for delays in processing of the registration papers by the AKC.
The dog sold is in good health, free from communicable diseases and has been immunized appropriately according to age & identified for registration purposes. The health of this animal is guaranteed for three (3) working days through examination by a veterinarian at the discretion and expense of the buyer. If the dog is found to be of unsatisfactory health and written documentation from a licensed veterinarian is presented, the seller shall at their discretion (provided the dog and registration papers are returned within three working days): Refund 100% of the purchase price. However, Magix'z Poms will not be held liable for any damage or injury caused by negligence or accident. The buyer shall have the option to return the dog, in the same condition as when it was sold, the buyer shall assume any expenses associated with returning the puppy. Magix'z Poms will not be responsible for any expense(s) incurred for any reason by the buyer regarding this dog without Magix'z Poms written consent.
Buyer understands that giving the Leptospirosis vaccine will void health guarantee.
The puppy/dog is NOT sold with the guarantee against COCCIDIA or GHIRDIA (typically dormant single celled parasites common in puppies, but is dewormed several times prior to going home with you to avoid such issues).
No guarantee of maturing show/breed quality, correct bite, consistancy of coat, patella, hernias, trachea issues, descended testicles, or the the ability to breed at the age of maturity. Breeder can only estimate adult weight, size, color by experience.
The breeder has supplied initial inoculations, Buyer agrees to do all follow up health care and maintenance of the pet including puppy immunizations, rabies, dentals and exams recommended after purchase.
Date Vet check to be completed by. _______Initial___
Each puppy is guaranteed to have sound and stable temperament provided they are properly socialized which includes obedience training and that the buyer spends a large amount of time socializing your dog daily. With proper care and training on behalf of the buyer, the show prospect should be of acceptable temperament and structure and should embody the basic standard of the breed. Proper care includes regular and proper exercise, bathing, regular grooming, training, and socialization. We do not guarantee dogs sold for showing to become Champions, but if raised with reasonable training they should achieve this honor. No warranty is made or implied that this dog will win in the show ring. Buyer acknowledges that they have knowledge of and understand the requirements and special care necessary for a show potential dog.
It is agreed that the above sold dog will only be bred after each of the following conditions have been met:
a) reaches minimum 15 months of age.
b) Has had Heart Exam by certified cardiologist.
c) Has had an eye exam by a veterinary ophthalmologist.
d) Has had Patella exam
e) Results submitted to OFA for CHIC certification
Magix'z poms requires that this dog only be bred to Pomeranians that
a) are capable of being AKC registered;
b) the progeny of the dog are capable and will be properly registered with the AKC.
c) meet the requirement of improving the breed and not just for profit.
The buyer of this dog, if eventually bred, will be responsible for all puppies produced for the pups lifetime. Required to use a contract with all sales of offspring with spay and neuter conditions, screen potential homes and thoughtfully place puppies in good homes.
To protect the integrity and preserve the pedigree of the above dog and Magix'z Poms lines, the following stipulations:
First Generation: No puppies may be sold on open registration. Open(full) registration is only for puppies kept by the Buyer or by Magix'z Poms.
Second Generation: Puppies from this generation and after are available on open registration to the public.
Breeder retains stud rights of male placed for the amount of $_____
Female placed breeder retains second pick, first pick if buyer is placing entire liter for the amount of $1500. Selection being made when pups are 8 – 10 weeks of age
If the dog was bred, accidentally or intentionally, before he/she was OFA tested. Said dog and offspring shall be surrendered to Magix'z Poms based on breach of contract with no compensation provided. Any court costs incurred in transportation or court fees will be at buyer's expense.
Beside good and reasonable care, the buyer agrees to:
a) Allow the dog to live in your home, as a participating family member and to treat the dog humanely with proper safeguards taken for their care.
b) annual veterinary checks, including yearly heartworm tests, to properly administer a heartworm preventative, and any other health care needs.
c) to confine the dog in a fenced yard, kennel run or walk on a leash
d) to keep the dog clean and properly groomed.
e) provide proper socialization of your puppy to children, other animals and other people as your puppy grows.
Buyer must notify Magix'z Poms of any change of address and phone number. The buyer will from time to time advise Magix'z Poms of the dog's progress and will not hesitate to contact us for advice on any problem or question that the buyer may encounter. Magix'z Poms is to be notified should any unusual health problems occur at any time or upon the death of this dog.
The buyer agrees and promises to never take this dog to a humane society, animal shelter, medical research corporation or organization. The buyer also agrees the above-described dog, or its offspring, will not be leased, consigned, auctioned, sold or given to any pet shop, puppy broker, puppy mill or other commercial enterprises for resale or breeding purposes. Buyer agrees to treat this dog as a family pet, with affection and kindness. If the dog is found in a shelter, humane society, rescue program or the like, the buyer agrees that all rights of ownership reverts to Magix'z Poms. All fees incurred in reacquiring dog from such entity will be at buyer's expense.
If at any time the buyer cannot keep the dog, ownership (dog and registration papers) is to be returned to Magix'z Poms. Proceeds of sale (if any) will be forwarded to the buyer/owner after the AKC transfer fees, veterinary, advertising costs and any other cost occurred are deducted. The monetary value of an older pet animal may be significantly less than the original purchase price. The dog may also be placed in a mutually agreed upon home upon Magix'z Poms approval. Magix'z Poms approval will not unreasonably be withheld on the condition that the new owner agrees in writing to be bound by the provisions of this contract. In no event shall the amount of any refund, reimbursement, or liability on the part of Magix'z Poms to the buyer be greater than the purchase price of the dog.
Buyer acknowledges that Magix'z Poms and other breeders of this dog's breed would incur irreparable damages if the breed is corrupted by, the breeding of show potential dogs with dogs of lesser quality or cross breeding of this breed with other breeds, and that the amount of such damages will be difficult to be ascertained. It is, therefore, agreed that in the event there is a violation, the buyer will pay Magix'z Poms as liquated damages, and not as a penalty, the sum of $5,000.00.
SHOULD THE DOG BE OBTAINED BY FALSE PRETENSES AND IF FAILURE TO COMPLY WITH ALL OF THE ABOVE AGREEMENTS VOIDS ALL GUARANTEES AND IS GROUNDS FOR REPOSSESSION OF THE DOG AND ITS REGISTRATION PAPERS WITHOUT ANY COMPENSATION TO THE OWNER.
By signature, the buyer accepts all the foregoing and constitutes this as a binding contract. The buyer acknowledges that they have had an opportunity to review this contract. No provision of this agreement may be amended without the written approval of both seller and the buyer. There are no warranties or guarantees other than listed in this contract. If you are a conscientious dog lover, you will agree that these few conditions protect you, they protect us and above all they protect the dog. Should any legal action be necessary regarding the above-named dog, on the part of the Seller or Buyer, all legal action is to take place in the County of Saint Claire in the State of Michigan, no exceptions.
Buyer _________________________________Date_____________
Seller __________________________________Date____________