Thank you for your interest in owning a Pomeranian from Magix'z!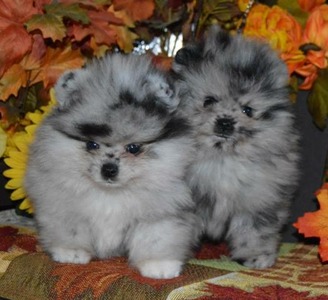 Often have many inquiries on why I wait until my puppies are older before I accept applications. I want to take some time and explain why I wait and my process. Color is fun. We all have color preferences. Sometimes we see a puppy and are so attracted to it in the moment that we just need to have that one. I have felt it. I know it. I see my fellow breeders post cute new born pics and I really want to reach out and reserve that pup based solely on color & gender. However, buying a puppy based on color alone can be a recipe for disaster. These two pups are a perfect example of how much temperament and personality matter and waiting to see who they are is so important. Both these boys have all the same visual qualities. These boys have very opposite personalities. Logan is confident, playful and into everything. He is the first to explore with new things and activities. Brody is a quiet boy. He is confident but waits and watches and more reserved,. Logan loves to rough house, and Brody plays gently. Logan needs to be told 3 times to stop chewing my shoe. Brody only needs to be told once. Logan will need a family that loves to play and that has an active side. He wants to explore engage and get into everything. Perfect for theperformance and active family. Brody will do well with a quiet home, and could even thrive in an apartment type setting. Not all pups are one or the other, they can be a combination of both. Or a entirely different personality or activity need.
If I sold Logan at birth to someone that wanted him because he has a white paw, and they are limited on the activity they can provide for him, I would be setting that family and Logan up for failure. I do not start looking for their new families until ready to leave my care. Do a personality assessment over the weeks in my care and acquire vet health report. Never require deposits that lock people into purchasing from me. I do not ship as I want to see the interaction with the pup and my adult dogs. The right placement for each pup determines the life they will have. It's my responsibility as your breeder and to the puppies that I produce to do my best to ensure that each puppy fits the lifestyle of the family they will be going to spend their life with.
If you would like to be considered for ownership of one of my Pomeranians.
Please begin the process by reading my purchase contract and make sure you are willing to abide by the terms

.
I only have a few poms available per year.
Receive many wonderful applications and wish I had pups for each of them.
But my decision is based on the lifestyle that best suits each Pom.
Located in Memphis, MI. No shipping - Pick-up only at final interview.
Please only submit application on pups currently listed as available

.